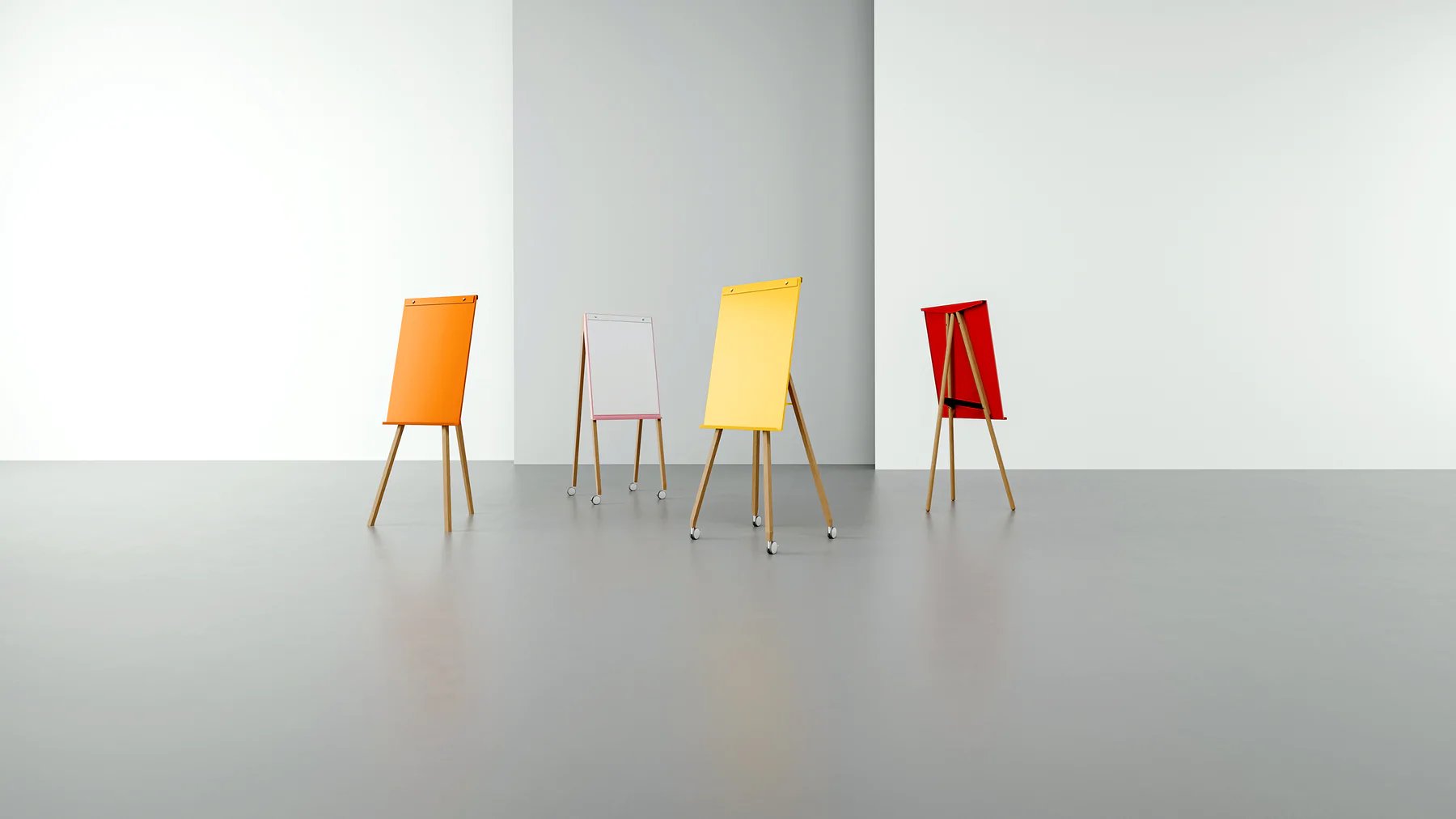 Whether in coworking, home office, hotel or agency - our shapely flipcharts provoke creative exchange. Functional and clear in design, the Flipcharts integrate excellently into different room situations. Flipcharts in different colours, made of ash or oak wood, very dynamic on Castors or rather classic and steadfast - our flipcharts impress with their characteristic design and liven up the modern office with their colours.
Particularities and features
Design
Our handcrafted Flipcharts are thought through down to the smallest detail and optimized for creative processes. For example, pens, sticky notes or other work equipment can be stowed directly in the integrated pen tray and are always ready when needed.
Powder Coating
Powder coating is a better type of surface coating than conventional wet painting from various aspects. Shockproof and insensitive with a high chemical resistance. These advantages make the boards ideal for shared use in the office.
Solid Wood
The tripod of the Flipcharts is made of solid wood with a double-oiled surface. The high strength and stability of these woods increases the resilience and thus reduces the susceptibility to surface damage. This promotes the longevity of the Flipcharts.
The Flipchart - An indispensable tool for presentations and workshops
A Flipchart is a useful tool for presentations, meetings, coaching, workshops and training courses. No matter whether in Coworking Space, home office, hotel or in the agency - Flipcharts promote creative exchange because they offer an efficient way to visualize and share ideas and information. Here you can find out more about the advantages of a structured and collaborative way of working.
How is a Flipchart structured?
It consists of a large pad of paper on a board attached to a tripod. The paper can be flipped to view different pages.
The Flipchart board serves as a support for the Flipchart block. The size of the board can vary depending on the version - some Flipcharts are also height-adjustable with a mechanism. The working area of ​​a Flipchart is usually approx. 70 cm and a height of approx. 100 cm, which also results from the size of the Flipchart paper. The fastening dimensions of the Flipchart blocks or the distance between the holes for holding the paper is usually 50 cm.In the upper area of ​​the work surface there are always two so-called pins or paper hooks, which are used to hang up the block. A bar is attached to the paper hooks, which allows you to turn the pages and tear off individual sheets.
Another component of the Flipchart is the tripod. Here the plate or the board is usually attached to a column or the three to four legs. All variants serve stability when writing and ensure increased mobility of the Flipchart.
In addition, the Flipchart can be attached to the base of the tripod Castors for better mobility. Here, too, there can be different variations such as a round base or star base. These ensure that the Flipchart is very user-friendly and enable agile guidance through the premises in the work environment. If, on the other hand, you need your Flipchart away from home, for example because you have an appointment to attend an external meeting, you can easily fold up some models and take them with you.
With some models, the board can also be written on directly like a whiteboard. However, special whiteboard markers should be used for this in order to be able to remove the paint without resistance after use. The plate is often made of aluminum or - like the boards from our collection - of magnetic sheet steel, which means that magnets can also be used on the boards.
What Flipchart variants are there?
The success of a presentation or a workshop not only depends on the content, but also strongly on the respective needs of the team or the moderator for the tools used. Therefore, some variants of Flipcharts are suitable for the respective situation, sometimes more and sometimes less. Depending on the version, these can differ according to the following criteria:
Mobile Flipcharts on Castors
Magnetic Flipcharts
Flipcharts for the table
Foldable or collapsible Flipcharts
Height adjustable Flipcharts
Digital Flipcharts
Each of these versions is suitable for different purposes. Therefore, it is advisable to consider carefully which variation best meets your requirements before purchasing.
What are typical uses of a Flipchart?
A Flipchart is used - just like a whiteboard - to represent and present information visually. Here are some of the main purposes of a Flipchart:
Presentation in front of viewers: A Flipchart makes it possible to present text, diagrams, graphics and illustrations directly in front of viewers. The presenter can write or draw on the Flipchart in real time, making for an interactive and engaging experience.
Group Collaboration: Flipcharts encourage collaboration and interaction in groups. By creating content together on the Flipchart, participants can exchange ideas, brainstorm and develop problem-solving.
Documentation: A Flipchart makes it possible to record the course of a meeting or workshop. Important points, discussion results and decisions can be recorded on the Flipchart. This makes it easier to follow up later and allows participants to focus on what matters instead of having to take notes.
Visualization: Complex information can be simplified and visualized by using colors, diagrams, symbols and images on the Flipchart. This makes it easier to understand and absorb the content presented.
All in all, a Flipchart serves to present content clearly, to promote interaction and cooperation in groups and to visualize situations in an easily understandable way. It is a versatile tool that can be used in various fields such as business, education, training, and teamwork.
What are the advantages of Flipcharts?
There are many advantages of Flipcharts that make them an indispensable tool for presentations and meetings. Here are five key benefits:
Visual presentation of content: Flipcharts allow the speaker to present their thoughts and ideas visually in order to create better understanding for the audience.
Interaction with the audience: Flipcharts can also be used as an interactive tool to actively engage the audience.
Mobility: A Flipchart can be easily moved and repositioned to suit the needs of the speaker and the audience.
Cost Efficiency: Compared to other presentation tools like projectors or displays, Flipcharts are more cost effective.
No technical problems: Unlike other presentation tools, a Flipchart requires no technical knowledge or power supply and is therefore always ready to use.
The special feature lies in the interactivity. Because you or your colleagues write verbatim, your attention stays on the essentials. Thoughts and ideas can be visualized spontaneously and teammates can be motivated to share.
An analogue Flipchart has advantages over a digital Flipchart
Simple operation: An analog Flipchart does not require any technical knowledge or training. Anyone can start writing or drawing information on the paper immediately. Complex menus or settings that have to be mastered are missing here.
Flexibility: Compared to presentations on a display or a projector, an analogue Flipchart offers a flexible and spontaneous way of presenting information. It requires no technical devices or power connections and can be used both indoors and outdoors.
Creative expression: With an analogue Flipchart you have the freedom to express your creativity. You can bring sketches, diagrams, mind maps and other visual elements directly to paper. This can help to better understand complex concepts and increase listeners' attention.
It should be noted, however, that digital Flipcharts also have their advantages, such as the ability to store, share and edit content in real time. Mobility can also be increased using a special Standfuss. Ultimately, the choice between an analog and a digital Flipchart comes down to specific requirements, preferences, and available resources.
Which Flipchart accessories make sense?
In addition to purchasing a Flipchart, helpful accessories can also contribute to a good workflow. On the one hand, you should use pens in different colors in order to ensure a visually appealing presentation of your content. Also a Whiteboard-Marker can be worthwhile if you can write on your Flipchart-board.