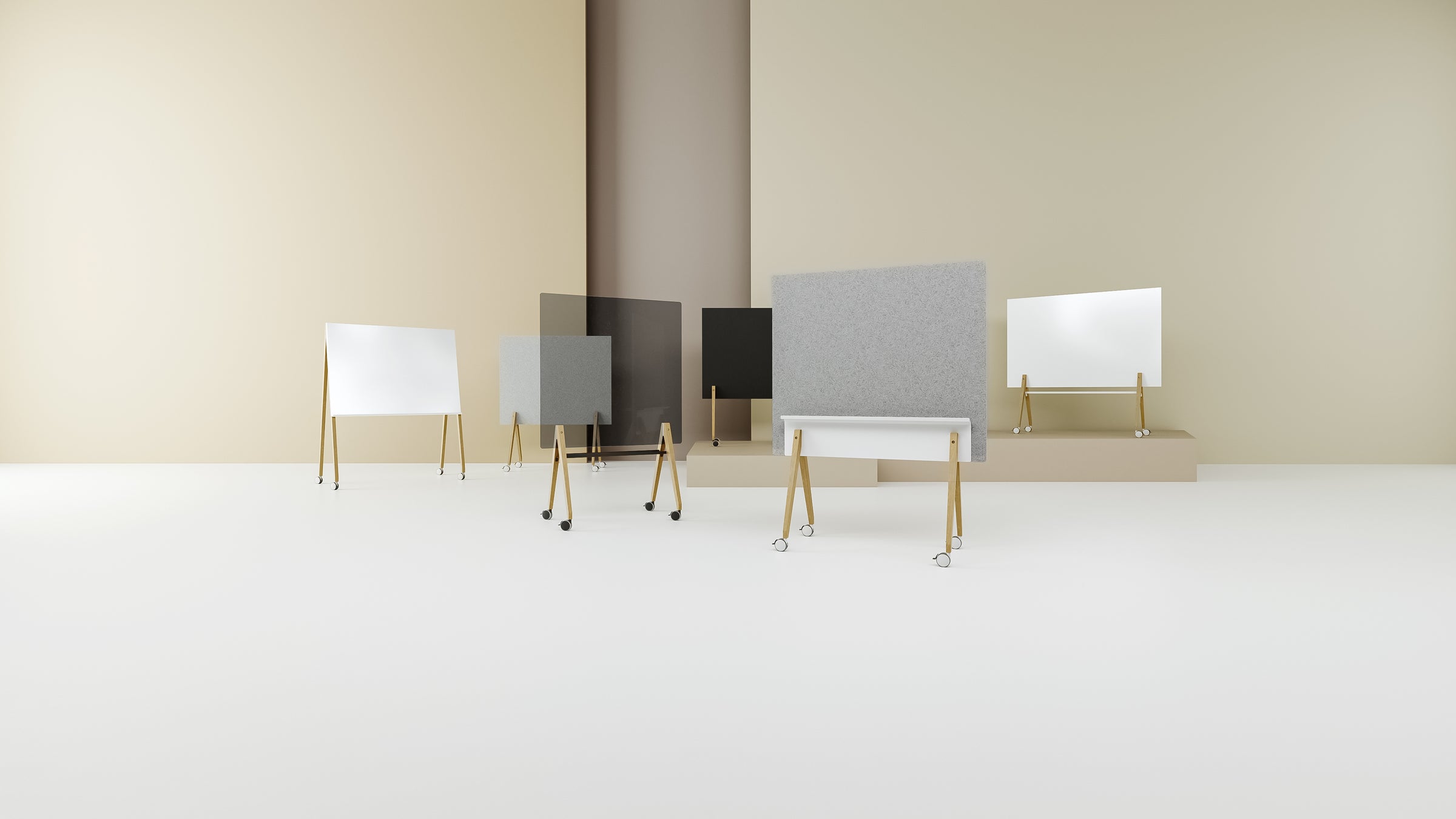 Writing boards & moderation walls
Writing boards and presentation boards - the ideal solution for every presentation
Writing boards and moderation boards are important tools for meetings, training courses and presentations. They allow information to be presented visually and provide participants with a better basis for understanding. There are many different types of chalkboards and facilitation boards on the market, but it is important to make the right choice to get the desired result.
Types of writing boards & moderation boards
There are a variety of board types that are suitable for different applications. For example, whiteboards are particularly useful for interactive training courses and workshops, where participants can write down and visualize information.
With us you will find whiteboards, pin boards, chalk boards, glass partitions and multifunctional boards that combine several functions in one product.
Whiteboards
Whiteboards are indispensable tools in schools, offices and conference rooms. They enable ideas and information to be visualized and presented quickly and easily. Whiteboards are the most commonly used writing boards for meetings and presentations. They consist of a smooth, white surface that can be written on with a whiteboard marker. With their independent and yet reserved design, the roomours whiteboards adapt perfectly to the place and time.
Convince yourself of our timeless and chic Whiteboards
Boards
A work surface made of felt, metal or covered with paper, exchangeable boards or permanently installed? Pinning, traditionally with needles or more modern with magnets? roomours's pinboards offer plenty of space for creative interaction and can also be used as room dividers. Always agile and dynamic, on four Castors and four wooden legs. Our pinboards are a successful combination of functionality and aesthetics. The well thought-out design of the pin boards combines a wide range of possible applications.
Chalk Boards
Chalkboards are similar to traditional school blackboards, but are usually larger and can be written on with a chalkboard. This type of writing board is particularly suitable for use in training rooms and classrooms. Our chalkboards are clean in design and very functional with their wet-wipe and magnetic surfaces. A classic product in a contemporary form for modern office culture. The blackboard, coated in black or green, serves as a basis for creative exchange and communication in the office or in the classroom. Gathering inspiration, transporting knowledge and providing information. Chalk Talk helps - the blackboard from roomours.
Glass partition walls or glass boards
The frameless glass boards are open to all ideas. Elegance meets function: the gently tinted, transparent ESG safety glass can be written on and is easy to clean, while wooden legs on Castors make the board mobile and flexible.
Thanks to their transparency, the glassboards are also suitable for small offices and of course for everyone who always wants to keep an eye on things. When used as a room divider between workplaces, the mobile glass panes also offer protection against pathogens such as corona viruses, as they reliably keep out tiny droplets of saliva and can be cleaned with a simple disinfectant.
Durable and robust materials
Our writing boards and moderation boards are made from high-quality and durable materials that guarantee a long service life. This includes robust writing surfaces made of powder-coated, magnetic sheet steel and the solid wood legs characteristic of roomours furniture.
Why should you invest in high-quality writing boards & presentation walls?
Flexibility: Our mobile writing boards & presentation walls can be quickly and easily rearranged and adapted to meet current needs. In addition, thanks to their Castors, they can always be used where they are needed.
Overview: The visualization of information and ideas ensures a better overview.
Interactivity: Blackboards & moderation walls promote interaction and collaboration within training courses and meetings.
Better communication: Writing boards and moderation walls enable you to present your thoughts and ideas in a visible and clear manner. This improves collaboration and communication within your team.
Increased Productivity: By writing and drawing on chalkboards & presentation boards, you can better organize your thoughts and set priorities. This leads to increased productivity.