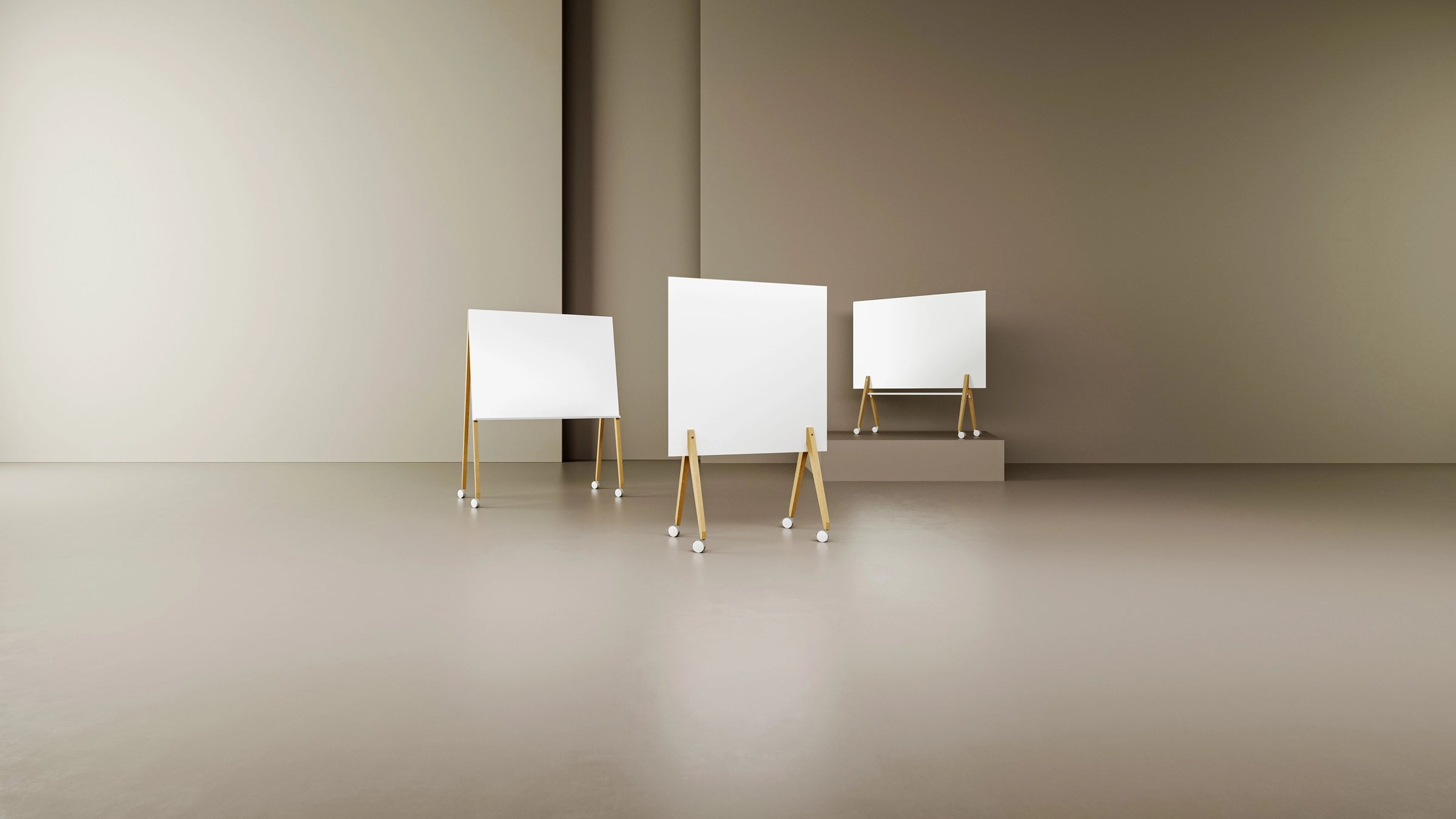 Magnets, post-its, board markers – everything is possible on the roomours whiteboards. The boards can be written on with whiteboard markers, can be dry wiped and are magnetic. Simply rolled into the right position and let the ideas flow. Jack White on Tour, Write It on Tour, Pin Up on Tour and all of our white flipcharts offer plenty of writing space for creative work. With their independent and yet reserved design, roomours's whiteboards adapt perfectly to the place and time.
Whiteboards - For creativity and productive work
Whiteboards serve as an effective tool to unleash creativity in different environments while increasing productivity. No matter whether in the office, in the classroom or in other meeting rooms - recording ideas, structuring them logically and promoting cooperation through interactivity are the core tasks of a whiteboard. Below you will find out all the important aspects of this helpful communication tool.
What exactly is a whiteboard?
Whiteboards are also known as dry erase boards or whiteboard boards. Basically, they have a smooth surface that can be written on with whiteboard markers. In contrast to chalkboards or Flipcharts, special markers are used here, which can be easily removed again. The surface can be labeled with text, diagrams or other information. Whiteboards are therefore particularly suitable for interactive meetings. They are also ideal tools for working with post-its and for sorting and structuring thoughts.
What is it about digital whiteboards?
Digital whiteboards represent a large display that allows the user to view and edit digital content in addition to simple writing and drawing. The interactive boards such asB the Samsung Flip therefore offer more flexibility through touchscreen interaction, shape recognition or the digitization and automatic storage of what is written. They are therefore ideal for people who want to use virtual features for collaboration or who generally prefer a digital work environment.
What are the uses of a whiteboard?
Similar to
Flipchart
s,
whiteboards offer a wealth of possible uses and serve as a practical aid for various activities. Basic uses include:
Brainstorming: Whiteboards are ideal for recording ideas. Whether alone or in a team, you can jot down ideas, create mind maps and develop creative concepts with pen, post-it or magnetic stickers
Presentations: Whiteboards are often used as visual aids in presentations and lectures. Charts, graphs and key information can be presented clearly and made understandable with the help of the boards.
Project management: The boards are ideal for planning and organizing projects. Visualizing schedules, task lists, and milestones to track progress and keep the team informed are just some of the benefits.
Collaboration and teamwork: Whiteboards encourage interactivity and teamwork. You can develop ideas together with your colleagues and sketch solution strategies on the whiteboard.
For whom are whiteboards useful?
The communication tool is suitable for everyone who wants to present information quickly and clearly. The following people in particular like to work with whiteboards:
Teachers and Lecturers
Business people and project managers
Creatives and designers
Researchers and scientists
Students and learners
Parents and educators
All of these groups have one thing in common: They use the whiteboards to record and visualize information and to increase and pass on the learning effect through meaningful illustration.
What types of whiteboards are there?
Whiteboards are available in different versions, which can differ depending on the intended use. The classic whiteboard represents a board that is hung on the wall and can be written on from there. The surface consists mostly of enamelled, powder-coated steel or plastic. The board is often magnetic and offers the possibility to attach notes and other documents using Magnets, similar to a pin board, to be attached to the surface.
Another variant are mobile whiteboards. These are mounted on a tripod with Castors and can therefore be easily moved. This is particularly useful in offices or schools, for example, where flexibility and mobility are required. The surface is the same as the classic wall version.
If you like it more visually appealing, you can also click on Glasboards. These have an elegant and modern look and are mostly made of tempered glass. The transparent surface can also be written on here and is easy to keep clean with special cleaning agents. This variant is also available with and without feet or Castors.
Lastly there are the digital or interactive whiteboards. These are particularly contemporary and not only allow writing, but also digital processing of the content in real time. The touchscreen function with different apps also offers additional interaction options with the display.
What whiteboard alternatives are there?
In addition to the diverse variants of whiteboards, there are also various alternatives for individual needs:
If you don't want to do without the feeling of pen and paper when writing, you have the opportunity to go to Flipcharts. These are very similar in structure to whiteboards on a tripod. However, the board holds a large pad of paper, which is attached to a stable holder. Depending on the manufacturer, there are also a few variants for a wide variety of needs.
Another possibility is the so-called blackboard color. This can be easily applied to walls or other surfaces and written on just like a whiteboard. This alternative is particularly space-saving and can turn almost any surface into a whiteboard.
There are also numerous whiteboard apps that can be used on tablets or smartphones. These apps have the same functions as a whiteboard, with the added benefit of being able to write, draw and share content digitally.
What makes a good whiteboard?
A good whiteboard has several features that ensure its functionality and durability. Three aspects are particularly important:
| | |
| --- | --- |
| Feature | Description |
| surface | The surface should be smooth and easy to write on. The markers should slide smoothly and the writing should be clearly visible. |
| Longevity | A high-quality whiteboard should be stable and robust and withstand daily use. It should be scratch-resistant and resistant to stains and dirt. |
| Easy cleaning | A good whiteboard should be easy to clean. It should wipe clean easily with a dry or damp cloth without leaving stains or residue. |
So consider in advance what requirements your whiteboard has to withstand and pay particular attention to the materials used. The right cleaning products and stationery also play a crucial role in longevity.
What should you look out for when buying a whiteboard?
Before purchasing a whiteboard, there are a few factors you should consider to ensure it meets your needs. Depending on the room structure and intended use there are different models that can be considered. It is best to think about the use in advance and select the whiteboard according to the following criteria:
Size: Choose the size of the whiteboard according to the space available and your needs. Think about how much space you need for your notes, drawings or presentations.
Surface material: Examine the surface material of the whiteboard. Laminated steel or enamelled steel surfaces are usually durable and easy to clean.
Magnetic properties: If you want the ability to attach objects to the whiteboard, make sure the surface is magnetic.
Mobility: Ask yourself whether you need a mobile whiteboard with a stand and Castors or whether a wall-mounted variant is more suitable.
How are whiteboards cleaned?
In order not to limit the lifespan and functionality of your whiteboard, regular care of the surface is of crucial importance. We have put together a step-by-step guide on how to clean your whiteboard:
Use a dry cloth or whiteboard eraser to remove dry marker residue.
For stubborn stains or residue, use a whiteboard cleaner or mild cleaning agent. Apply the cleaner - for example Oranex - to microfibre cloth or paper towel and wipe the surface of the whiteboard. Then clean the surface with water.
After cleaning, dry the surface thoroughly with a clean, dry cloth.
Cleaning the board is quick and is an important part of the longevity of the whiteboard. You do not have to use a cleaning agent after each use of the board, but mainly for very dry residues that cannot be easily removed with a cloth or board wiper.
What accessories do you need for whiteboards?
Not only the quality features of the board, but also the accessories used play a role in the optimal use of whiteboards. Above all, using the right markers is crucial.
Whiteboard surfaces should have special Whiteboardmarker can be used. These dry very quickly and can be easily wiped off again. A wide repertoire of colors also helps to better distinguish individual sections from each other.
Also linear and stencils support the better display of content. They can help draw precise lines and create specific shapes or symbols on the whiteboard. Magnets or Post It's are also ideal for attaching notes, documents or other materials to the whiteboard. Almost all whiteboards can now be used as magnetic boards, which is why the small holders are a useful addition.
Before you can use the whiteboard again, the surface must first be thoroughly cleaned. There are various options here, such as special erasers, board erasers, cloths and cleaning agents. Regular cleaning ensures that the marker color does not dry out and is therefore easier to remove.
Buy your roomours whiteboard
now
Thanks to their design, our whiteboards are ideal for presentations and meetings.
The high quality of the materials used ensures a durable and unique communication tool. We offer you shipping within the EU and Switzerland with delivery on the desired date. Discover now the characteristic whiteboards of roomours!
FAQ
Finally, we would like to answer some frequently asked questions about whiteboards:
How much does a whiteboard cost?
Whiteboard prices vary by size, quality and function. Standard whiteboards range in price from 20 to 2500 euros. Digital whiteboards tend to be more expensive and can cost thousands of dollars.
What distinguishes good whiteboard markers?
Good whiteboard markers dry quickly, ensure good color coverage and can be easily wiped off again. They should also be low in odor and have a long service life. They can also be refilled to follow a sustainable approach.
What is the optimal height for a whiteboard?
The optimal height for whiteboards depends on usage and users. In classrooms or training rooms, a height of around 120-180 cm is recommended to ensure that all participants can see the content clearly.
What material is a whiteboard made of?
Whiteboards are often made of laminated, enamelled or coated steel or plastic. Glass boards consist mainly of hardened ESG or VSG glass.