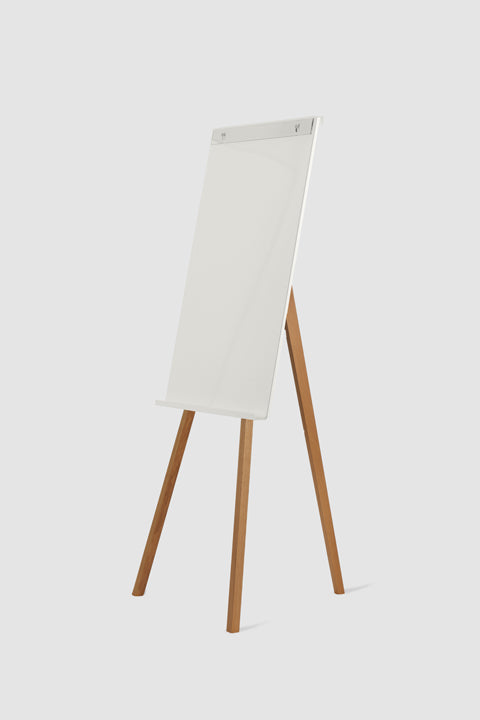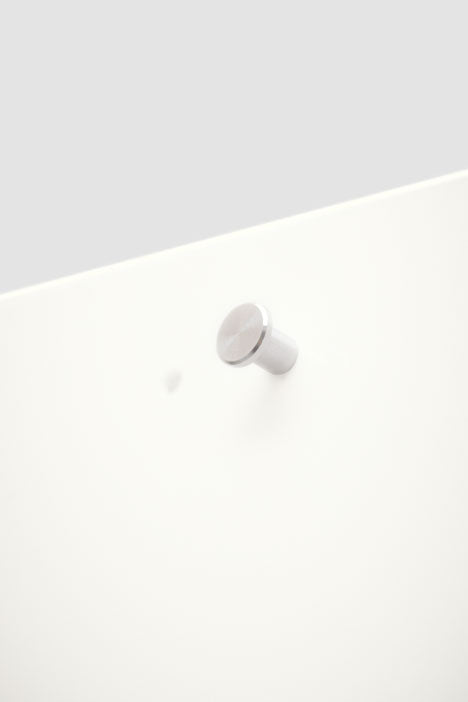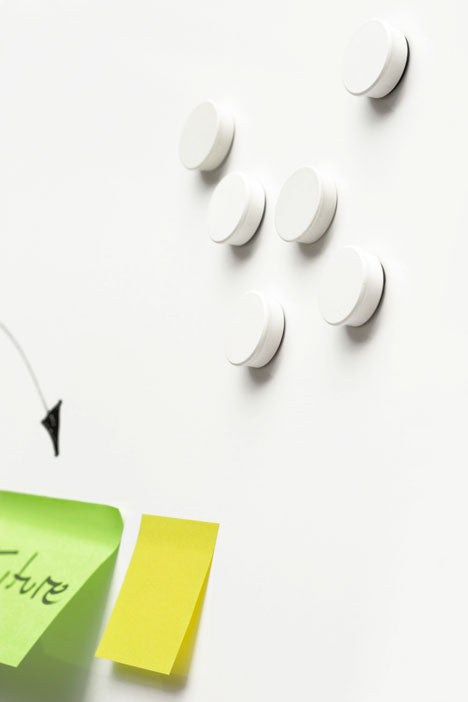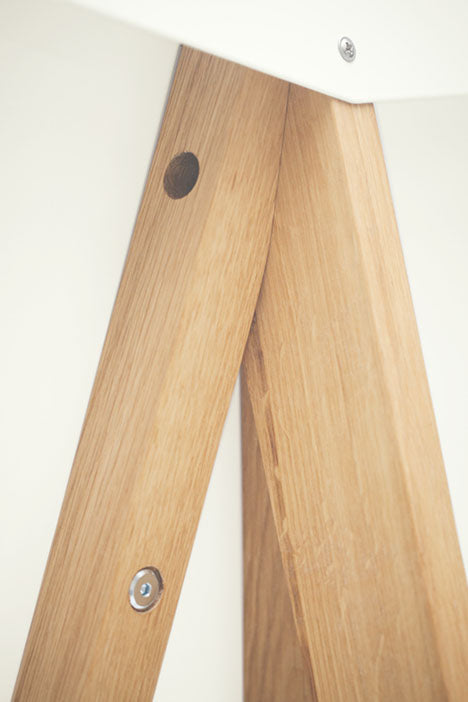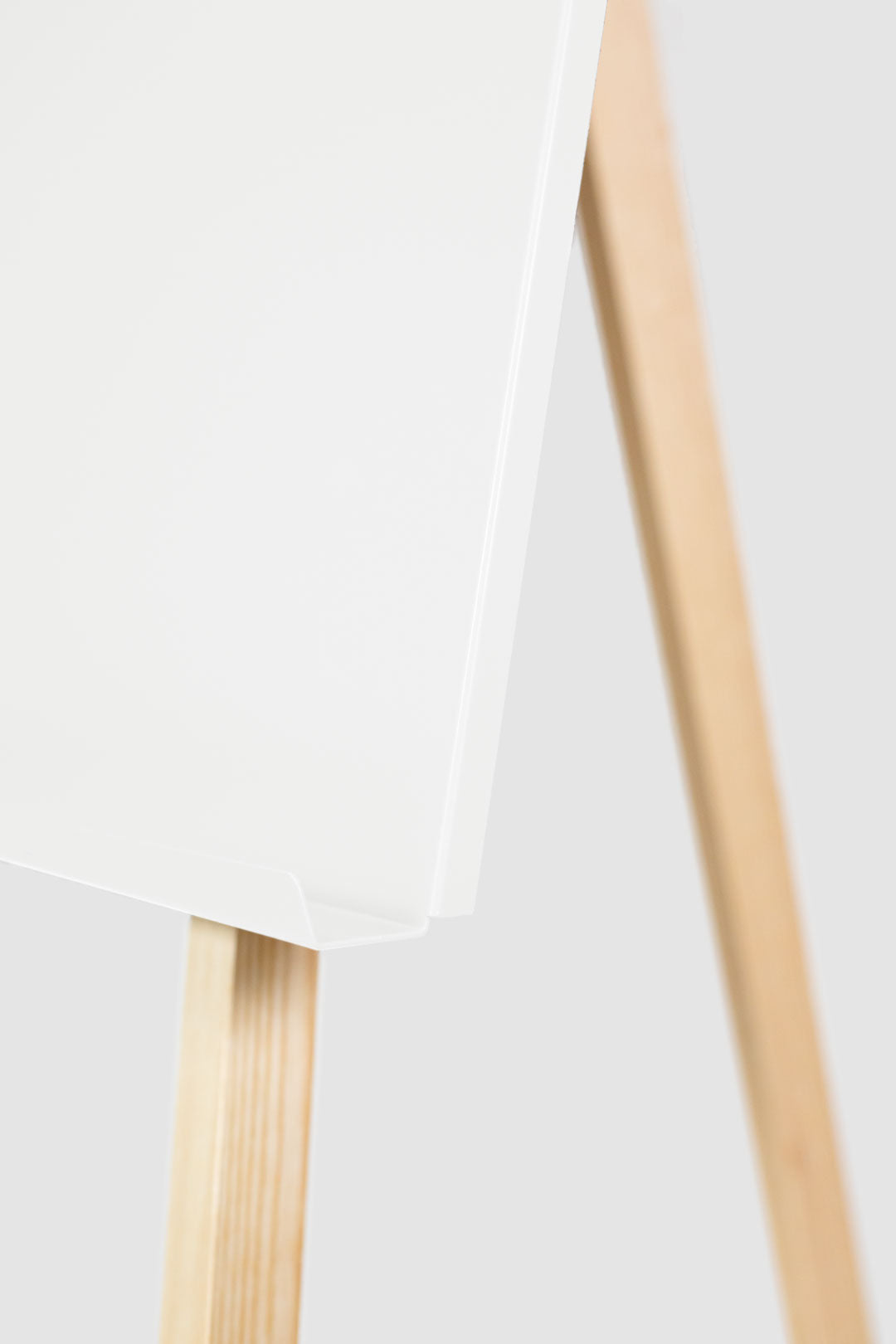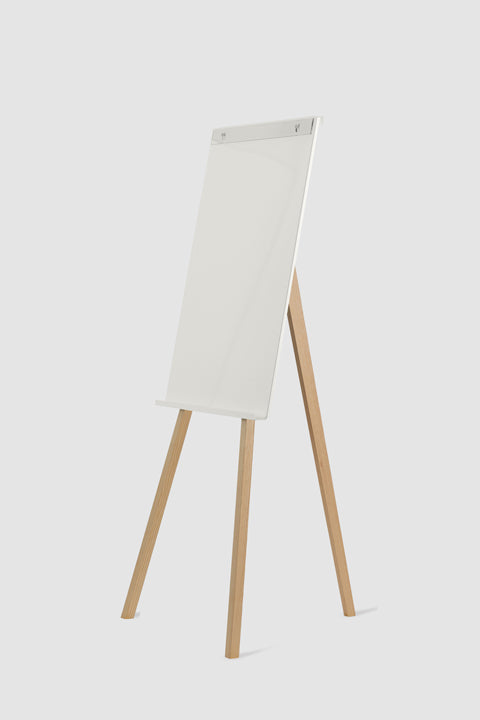 White board Charter
FC-WT.O.1
Lieferzeit:
ca. 10 Werktage
Lieferzeit:
ca. 10 Werktage
---
certified wood from local cultivation
can also be used as a flipchart
---
An indispensable tool in workshops and team meetings, the basis for communicative exchange of all kinds.
Design
Awarded for its outstanding design by the Design Center Baden-Württemberg and the German Design Council.
In combination with Wood and metal, the Flipchart integrates excellently into different room situations. Flipchart Charter has character, follows the logic of maximum reduction and yet breaks with the rational. The natural aesthetics of the Flipcharts ensure an almost homely, but definitely special look in any office, meeting room or reception area.
Function
Flipchart Charter is suitable for all Flipchartblocks with a hole spacing of 50 cm.
Especially The integrated pen tray at the bottom of the Flipchart proves useful, which always keeps all the necessary utensils ready
The tear-off strip made of resistant and transparent polycarbonate, which is attached to two fastening hooks causes easy turning or tearing of the leaves.
Charter is also available in different bright colors. See here: Flipchart Charter

Maße (H x B x T) in cm:
180 cm x 78 cm x 76 cm
Gewicht:
18 kg


Materialien
Tripod: solid wood (oak or ash)
Board: sheet steel, powder-coated

---
Board - care and cleaning
Basically, the longer the paint residues can dry, the more energy you have to invest in cleaning the whiteboard in the end.
Daily cleaning
We recommend a microfibre cloth for quick and dry cleaning. This allows you to gently and scratch-free remove the residues of the whiteboard markers without leaving streaks or fibers on the board. Always allow the writing to dry before removing it, otherwise the pen will smudge.
Regular damp cleaning
We recommend cleaning the board with water or whiteboard cleaner in the evening or at least once a week, depending on how intensively you use the product. For thorough cleaning and to avoid paint deposits, take a damp microfiber cloth and clean the entire board.
Remove stains with rubbing alcohol or Oranex
To remove individual stains or smeared areas, we recommend rubbing alcohol or, if the stains are very stubborn, the Oranex cleaning agent. Apply some rubbing alcohol/Oranex to a cloth and slowly go over the soiled area in a circular motion.
Oranex can leave an oily film on the board, so that the dry wipeability of the surface is no longer guaranteed. It is therefore important to clean the board intensively with clear water after cleaning and then wipe it with a dry cloth, if necessary several times.
Pens and magnets
Only use suitable high-quality board markers, we recommend Lumocolor from Staedtler. Other waterproof pens are not made for whiteboards and make cleaning more difficult.
To avoid scratching the magnets, do not move them on the board.
Wrong cleaning agents:
Too harsh or too much cleaning agent can damage the surface!
Please do not use too rough cloths or sponges and do not apply too much pressure.
Download whiteboard cleaning instructions ⬇
---
Wood - care and cleaning
For regular cleaning, wipe the wood surface with a dry or slightly damp (not wet!) cotton cloth . Please do not use a microfiber cloth, as this may cause small scratches in the wood.
Small stains or dirt can be easily removed with special furniture soap . Do not use any degreasing household cleaners or steam cleaners, as these can damage the wood structure, which in the long run can also damage the elegant look of the wood surface.
Heavier soiling that cannot be removed by simply wiping can be easily removed with fine sandpaper. Then treat the affected area again with a suitable .
furniture oil
Water stains must first be completely dry before they can be treated. They can only be treated after they are completely dry.
Please note: Wood is a natural material that always shows differences in structure and color, making each individual product unique. Unfortunately, this also means that a wood sample or digital image of wood can only approximate the structure and color of the real product. All roomours blades are oiled to emphasize and protect the properties and natural look of the material.
The FSC-certified wood for all roomours products comes from Germany, Austria or the Czech Republic. Products with this "Forest TÜV seal" must meet strict sustainability standards and are checked regularly.
.
Volumenversandgewicht: 40kg
Packstücke: 3
Die Versand­kosten ergeben sich aus dem gesamten Volumen­versand­gewicht der Bestellung.
Delivery is on curbside. Due to its size and bulkiness, we ship this product via a freight forwarder. Packaging materials cannot be disposed of or taken away by the carrier.
Details on shipping and how shipping costs are calculated: Shipping information
Note
This product is delivered disassembled. The assembly consists of joining parts together using the supplied assembly kit. This process is simple and requires no special tools other than a screwdriver and the parts provided.
Pre-assembly on request
If you don't want to or can't assemble the product yourself, please ask us for an individual offer for an assembled delivery! Contact details
Unsere Produkte sind in wenige Packstücke verpackt, um die Sicherheit während des Transports zu gewährleisten, einfaches Heben und Tragen zu ermöglichen und den ökologischen Fußabdruck zu reduzieren. Die Verpackung selbst ist ebenfalls umweltfreundlich, da fast kein Kunststoff verwendet wird und wir Kartonagen recyceln.
Sollten Sie mehrere Produkte bestellen, kann es vorkommen, dass wir auf Palette liefern.